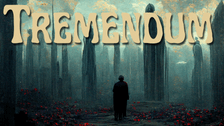 Tremendum
Tremendum © 2022 by Shane Ivers is licensed under CC BY 4.0
Royalty Free Epic Hybrid Music
Copy & Paste To Give Credit:
Deep analogue synth lines, orchestral textures, and an angry sounding choir! Buckle up for a crazy musical journey across the cosmos. Fresh modern beats meet and old school classical orchestra.
The Pro License includes stems of individual instrument groups so you can make your own remixes, or arrangements, as well as an instrumental version with no choir.
Are you ready for a musical adventure that takes you to the edge of the universe and back? This track is the perfect accompaniment for any creative project that needs a touch of otherworldly energy. You'll be taken on a wild ride, with powerful analogue synth lines leading the way.
The orchestral textures in this piece are a force to be reckoned with. They add depth and richness to the music, weaving in and out of the synth lines to create a truly unique sound. And let's not forget about the choir – they're angry, they're intense, and they're the perfect addition to this epic musical journey.
The beats in this track are fresh and modern, but they're also influenced by classical music. It's a unique blend that works seamlessly to create a sound that's both familiar and new. This is the perfect track for content creators who want to take their audience on a journey they'll never forget.
So whether you're creating a video, a podcast, or any other type of content, this track will provide the perfect backdrop. With its cosmic energy, orchestral textures, and modern beats, it's sure to grab your audience's attention and keep them engaged from start to finish.
Uses:
Perfect for movie trailers, games, and action sequences.
Royalty Free Music by Shane Ivers
| License | Use Without Credit | Price |
| --- | --- | --- |
| Creative Commons | No | FREE! |
| Pro License | Yes | $25 |
| Patreon Subscription | Yes | From $10 a month for all tracks |
NOTE: Other currencies are available if you're not a fan of dollarydoos.
Silverman Sound needs your support today:
Help me make the best free music, keep the website online, and keep brand new royalty free music tracks coming out regularly!