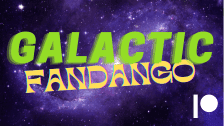 Galactic Fandango
Galactic Fandango © 2023 by Shane Ivers is licensed under CC BY 4.0
Royalty Free Space Opera Music
Copy & Paste To Give Credit:
Big cinematic space sounds, but kind of whacky! It's a full orchestra with funky guitars, and spacey synths.
This one comes courtesy of patron Case! For his Star Wars podcast. If you want a custom track, why not sign up?
Looking for an epic and unique soundtrack for your next content creation project? Look no further than this big, cinematic space-inspired musical piece! With a full orchestra, including funky guitars and spacey synths, this track offers a one-of-a-kind sound that is sure to capture your audience's attention. The combination of traditional orchestral instruments with modern, unconventional elements creates a sound that is both classic and fresh, making it perfect for a wide range of content, from sci-fi and fantasy to comedy and beyond. Whether you're creating a podcast intro, a promotional video, or a film trailer, this track is guaranteed to make your content stand out. So why settle for a generic, cookie-cutter soundtrack when you can have something truly unique and memorable? Give this funky, spacey orchestral track a listen and see for yourself!
Uses:
For space adventure stories featuring a rag-tag bunch of loveable characters.
Royalty Free Music by Shane Ivers
| License | Use Without Credit | Price |
| --- | --- | --- |
| Creative Commons | No | FREE! |
| Pro License | Yes | $25 |
| Patreon Subscription | Yes | From $10 a month for all tracks |
NOTE: Other currencies are available if you're not a fan of dollarydoos.
Silverman Sound needs your support today:
Help me make the best free music, keep the website online, and keep brand new royalty free music tracks coming out regularly!