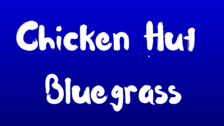 Chicken Hut Bluegrass
Chicken Hut Bluegrass © 2016 by Shane Ivers is licensed under CC BY 4.0
Royalty Free Country Music
Copy & Paste To Give Credit:
One I wrote a looong time ago, but updated for the 21st Century! A rip roarin' bluegrass track. From the deep south of the US of A, a countyfied track complete with banjo, slide guitar, and fiddle. With a pleasent vinyl effect for a bit of authentic sounding age. Hurrah for Dixie!
Uses: American South settings, getaway music, and anything else that needs a playful jolly tune.