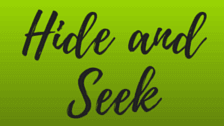 Hide and Seek
Hide and Seek © 2016 by Shane Ivers is licensed under CC BY 4.0
Royalty Free Light Orchestral Music
Copy & Paste To Give Credit:
A super happy, bouncy, playful orchestral piece. Plucky pizzicato strings and a chirpy flute. As light and fluffy as a cloud in the shape of a delighted face. Bursting with upbeat positive energy, amusing, and a bit of a vintage sound like those old TV theme tunes.
Uses: Montage scenes, or credits after a funny sketch. Perfect for YouTubers.