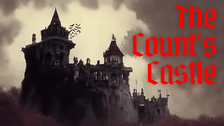 The Count's Castle
The Count's Castle © 2022 by Shane Ivers is licensed under CC BY 4.0
Royalty Free Vampire Horror Music
Copy & Paste To Give Credit:
Intensely unsettling, somewhat magical, all horrific! Big, deep orchestral sound, with clanging death knells, and a tinge of the Transylvanian! You'll be forever terrified! For you'll never escape… The Count's Castle…
The Pro License includes stems of individual instruments so you can make your own remixes, or arrangements.
Have you been searching for the perfect soundtrack to amp up the spooky factor in your next project? Look no further! This piece of music will transport your audience to a world of intense unease and spine-chilling horror.
The orchestral sound is big and deep, with ominous, chilling bells that will send shivers down your audience's spines. This track captures the eerie, otherworldly atmosphere of a haunted castle where danger lurks around every corner.
"The Count's Castle" is the ideal choice for anyone seeking to evoke a feeling of terror and suspense in their audience. Whether you're creating a horror movie, video game, or even a haunted house experience, this music will leave a lasting impression that your audience won't soon forget.
So please go forth, and terrify your audience!
Uses:
Would be ideal for a horror movie trailer.
Royalty Free Music by Shane Ivers
| License | Use Without Credit | Price |
| --- | --- | --- |
| Creative Commons | No | FREE! |
| Pro License | Yes | $25 |
| Patreon Subscription | Yes | From $10 a month for all tracks |
NOTE: Other currencies are available if you're not a fan of dollarydoos.
Silverman Sound needs your support today:
Help me make the best free music, keep the website online, and keep brand new royalty free music tracks coming out regularly!