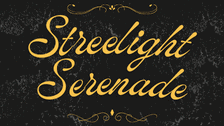 Streetlight Serenade
Streetlight Serenade © 2023 by Shane Ivers is licensed under CC BY 4.0
Royalty Free Nostalgic Jazz Music
Copy & Paste To Give Credit:
Transport yourself to a bygone era with that timeless sound that encapsulates the wistful romance of old-timey smooth jazz. Take a stroll through cobblestoned streets illuminated by the gentle glow of streetlights, evoking a sense of nostalgia and romance that harkens back to a simpler time.
As the brushed drums delicately tap out a rhythmic heartbeat, the melodic dance between the clarinet and piano sets the stage, weaving a tapestry of elegant harmonies. The upright bass provides an effortless steady plodding rhythm, grounding the composition with its rich and resonant tones, while the guitar adds depth.
The recording itself is reminiscent of the warm crackle and hiss of vintage vinyl records. The subtle warble and imperfections in the sound only enhance the authenticity, as if 'the track has been plucked from a forgotten radio station playlist, capturing the heart and soul of an era spanning from the 1930s to the early 1960s.
The Pro License includes a modern-sounding mix without the vintage recording sound.
Uses:
Film Noir Ambiance: "Streetlight Serenade" sets the perfect mood for a classic film noir scene, where its nostalgic jazz tones can accentuate the mysterious and romantic atmosphere of a dimly lit alleyway encounter or a sultry conversation in a smoky jazz club.
Period Drama Soundtrack: This evocative composition could find a home in a period drama series, enhancing emotional scenes of longing, connection, or introspection, transporting viewers to a bygone era of elegance and charm.
Vintage Advertisement: The authentic old-time sound of "Streetlight Serenade" makes it an ideal choice for a vintage-inspired advertisement, whether it's for a luxury product, a refined experience, or a brand that wants to evoke a sense of timeless sophistication.
Podcast Intro: Creators looking to infuse their podcasts with a touch of nostalgia could use this track as an intro theme, instantly captivating listeners with its warm, comforting melodies and transporting them to a different era before the episode even begins.
Royalty Free Music by Shane Ivers
| License | Use Without Credit | Price |
| --- | --- | --- |
| Creative Commons | No | FREE! |
| Pro License | Yes | $25 |
| Patreon Subscription | Yes | From $10 a month for all tracks |
NOTE: Other currencies are available if you're not a fan of dollarydoos.
Silverman Sound needs your support today:
Help me make the best free music, keep the website online, and keep brand new royalty free music tracks coming out regularly!