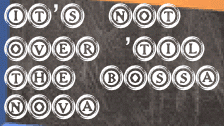 It's Not Over 'Til The Bossa Nova
It's Not Over 'Til The Bossa Nova © 2016 by Shane Ivers is licensed under CC BY 4.0
Royalty Free Elevator Music
Copy & Paste To Give Credit:
Classic cheesy Bossa Nova vibes – usually associated with elevator music or lift music. Also heard in shopping malls, and supermarkets and such in many comedic applications. It's very relaxed and inoffensive, features jazzy guitar and percussion, all while plodding along in a roundabout way.
Uses:
Would be perfect for one of those comedic scenes where someone has to take an elevator ride in the middle of an action sequence, and the dramatic music cuts to this being piped in through the speakers – hilarious.
Royalty Free Music by Shane Ivers
| License | Use Without Credit | Price |
| --- | --- | --- |
| Creative Commons | No | FREE! |
| Pro License | Yes | $25 |
| Patreon Subscription | Yes | From $10 a month for all tracks |
NOTE: Other currencies are available if you're not a fan of dollarydoos.
Silverman Sound needs your support today:
Help me make the best free music, keep the website online, and keep brand new royalty free music tracks coming out regularly!