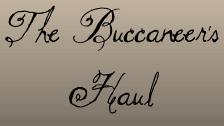 The Buccaneer's Haul
The Buccaneer's Haul © 2016 by Shane Ivers is licensed under CC BY 4.0
Royalty Free Pirate Music
Copy & Paste To Give Credit:
Ahoy there matey! Seems ye came across me treasure! This is an epic pirate theme with elements of traditional 17th century instrumentation. Representing a time of swords, canons, galleons, wenches, treasure and plunder! The golden age of high piracy in musical form! Just don't tell the Royal Navy!
The Buccaneer's Haul has a swashbuckling and adventurous feel, evoking images of seafaring journeys and daring pirate raids. The music incorporates elements of traditional 17th century instrumentation, giving it a historic and authentic feel. The use of instruments such as wooden flutes, fiddles, and drum adds to the rousing and lively atmosphere. The music also captures the excitement and thrill of searching for treasure and the danger of facing off against the Royal Navy. Overall, the pirate theme music paints a vivid picture of the golden age of piracy, taking the listener on a musical journey to a time of sword fights, cannon fire, grand ships, untold riches, and daring exploits.
Uses:
Pirates of course! Though any historical adventure would probably fit pretty well too.
Royalty Free Music by Shane Ivers
| License | Use Without Credit | Price |
| --- | --- | --- |
| Creative Commons | No | FREE! |
| Pro License | Yes | $25 |
| Patreon Subscription | Yes | From $10 a month for all tracks |
NOTE: Other currencies are available if you're not a fan of dollarydoos.
Silverman Sound needs your support today:
Help me make the best free music, keep the website online, and keep brand new royalty free music tracks coming out regularly!