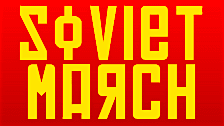 Soviet March
Soviet March © 2016 by Shane Ivers is licensed under CC BY 4.0
Royalty Free Russian Music
Copy & Paste To Give Credit:
In mother Russia, music plays you! A big patriotic military march in the classic soviet style. Big brass, strings, and snare drum back up a full male choir. So join the party, and get to work!
Uses: Cossack dancing videos, Siberian husky dancing videos, military themes, cold-war documentaries, Russian holidays.