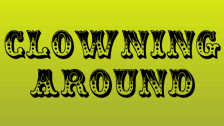 Clowning Around
Clowning Around © 2016 by Shane Ivers is licensed under CC BY 4.0
Royalty Free Circus Music
Copy & Paste To Give Credit:
Roll up, roll up, for the crazy capers of Clownface and friends! Yup, it's a big, crazy circus theme. The sound of a steam calliope banging away, but one of those big ones with the trumpets and drums and such. Heavily inspired by the work of Julius Fucik (the composer of that theme, yes you know the one), this is a mad, bombastic, silly carnivalesque tune. It's got some crazy modulations (key changes) towards the end so hold on to your hat.
Clowning Around is a fun, energetic, and whimsical piece of music that is designed to evoke the excitement and madness of a big-top circus. The main melody is played on a steam calliope, which is a type of keyboard instrument that uses steam-powered pipes to produce sound. This calliope is accompanied by a variety of other instruments including trumpets and drums, creating a rich and full sound. The music is heavily influenced by the bold and dramatic composition "Entry of the Gladiators", a popular circus march.
The music is characterised by its lively and playful nature, with lots of fast and energetic passages that are sure to get your heart racing. The piece is full of musical jokes and surprises, including sudden key changes that add to its overall sense of madness and craziness. The overall effect is of a wild, chaotic, and unforgettable carnival ride, where anything can happen and anything is possible. Whether you're a fan of classical music or just looking for some good old-fashioned fun, Clowning Around is guaranteed to be a rollicking good time.
Uses:
For enhancing silliness.
Royalty Free Music by Shane Ivers
| License | Use Without Credit | Price |
| --- | --- | --- |
| Creative Commons | No | FREE! |
| Pro License | Yes | $25 |
| Patreon Subscription | Yes | From $10 a month for all tracks |
NOTE: Other currencies are available if you're not a fan of dollarydoos.
Silverman Sound needs your support today:
Help me make the best free music, keep the website online, and keep brand new royalty free music tracks coming out regularly!